This article will demonstrate how to change your lease payment currency.
So, you've been earning in ZAR and would like to earn in BTC for one or all of your projects? Or vice-versa? But, how do you do that? Read on!
1.
Login
to your Sun Exchange account
2. Click/tap the edit icon next to the "Your cells: earning" heading under any of the projects listed on your dashboard.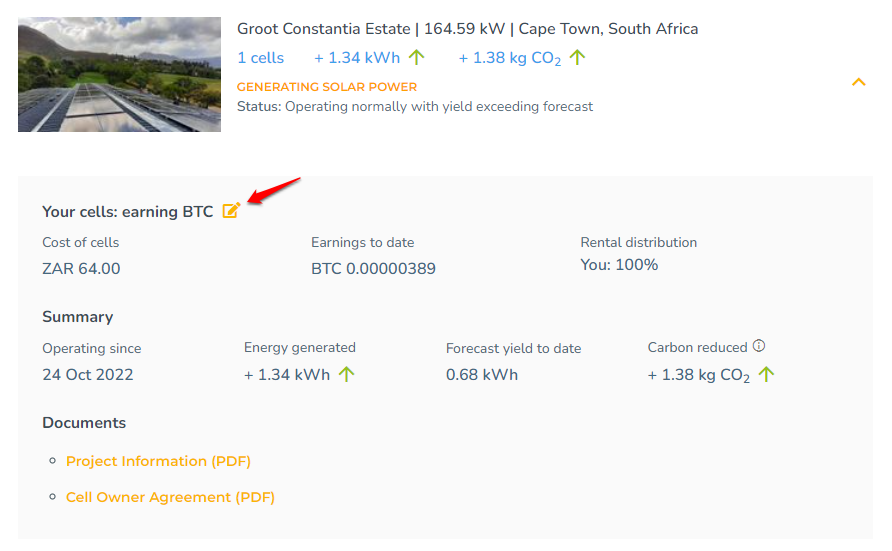 3. You will then be presented with the option to change, either all of your projects, or a specific one. Click on the arrow to select which project you would like to change, if it is only a specific one. If you would like to change all your projects, then you can select "All Projects".

4. On the same page, you will see the option to choose the currency which you would like to start earning (either ZAR or BTC). Click on the arrow to select one from the drop down list. Then click on "Save Changes".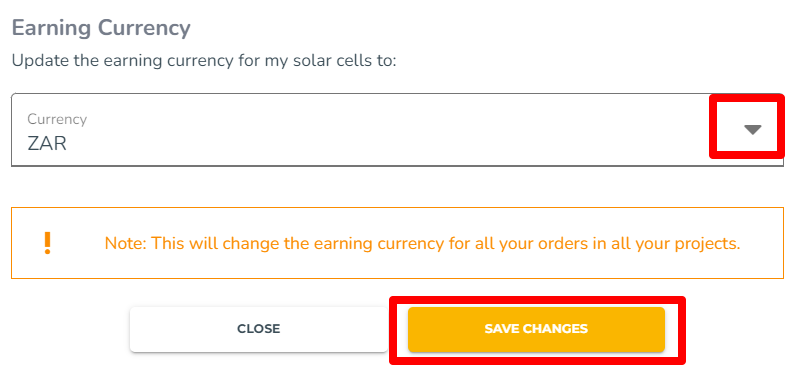 Note: You will only start earning in the new currency from the next month onward. As an example, if you change your projects to earn in BTC in November, you will only start earning in BTC from December onward! Importantly, making this change only affects future payments, it doesn't convert balances held from one currency to the other.
5. If you have 2FA enabled you will need to use the code from your authenticator app to confirm changes, otherwise, you will need to confirm it using the One-Time PIN that will be sent to your registered email address. Please note that you may need to refresh the page in order to see the changes.
If you have any questions or need any help with this feature, please
reach out to us
.